Hydrogen Fuel Cells May Be Tesla's BiggestFuture Sales Threat
氢能燃料电池车或是特斯拉未来最大的威胁
Summary概要
Competition from other manufacturers with BEVs could equal the impact fuel cell electric vehicles (FCEV) could bring toTesla from now until 2020.
其它汽车生产商和电动汽车的竞争,可等同于氢能燃料电池汽车和特斯拉的竞争,从现在开始,一直到2020年.
FCEV cars from Toyota and Honda available inCalifornia are incredible bargains measured against the Model 3.
丰田和本田的氢能燃料电池车,在加州都能买了,跟特斯拉的Model 3相比的话,简直是便宜的不像话
Elon Musk likes to disparage hydrogen fuelcells but they are getting serious support from unlikely sources.
伊隆.马斯克经常会蔑视氢能燃料电池车的发展,但氢能燃料电池车得到了越来越多的看起来不太可能的资金的大力支持。
Hydrogen is a growing factor not only incars but in long-distance trucking as well.
氢能的利用不仅是表现在乘用车上,还有长途运输卡车。
The only thing restricting FCEV growth arefueling station networks. A position similar to Tesla five years ago before its"Supercharger" network, which today only has just over 1,000 globallocations.
限制氢能燃料电池车增长的唯一的一个因素就是加氢站的数量增长缓慢。这种情况跟特斯拉五年前,它的"超级电容"充电桩网络还没建起来的时候是一样的,在全球范围内也只有1000多个充电桩。
First, let's clarify something I often findasked on the internet. Hydrogen gas is NOT a fuel, not often used with internalcombustion engines mainly due to cost. Gasoline is much cheaper, abouttwo-thirds cheaper. Hydrogen gas is used in transportation as the"fuel" in fuel cells that gets converted into electricity to powerelectric motors. Gasoline and diesel fuel cannot be used in fuel cells. So thetwo most common ways to power electric motors in cars and trucks today are batteries and hydrogen fuel cells. Batteries have been getting the most pressand have enjoyed a big head start. But quietly, behind the scenes, thelandscape is shifting and hydrogen is on the move.
首先,我先来澄清一下我在网上经常会被问到的问题。氢气并不是一种燃料,不常用于内燃机是因为其造价太高。汽油则会更加的便宜,约便宜2/3左右。氢气作为交通当中的材料,经常是和燃料电池一起使用,通过化学反应生电来对汽车进行驱动。汽油和柴油并不能用在燃料电池系统中。所以,时至今日,电动汽车和电动卡车的2种技术方式,就只有纯电动,和氢能燃料电池了。有关电池的新闻往往是获得了最高的曝光量,非常享受其头版头条的位置。但是,在幕后,情况正在悄悄的发生变化,氢能正处在高速发展的过程中。
Batteries 电池
Batteries for use in cars and trucks areheavy and expensive. Tesla (TSLA) will not disclose the cost of a replacementbattery pack or electric motors for its vehicles. Any Tesla replacements required up until now have been done under warranty. In reviewing Teslainvoices posted to the internet they never disclose the costs attributable toany repairs done under warranty. GM (GM) quotes the battery pack replacementfor the Chevy Bolt at $15,734.29.
乘用车和卡车,用电池的话,造价非常昂贵。特斯拉永远也不会公布它更换电池组的成本或是电动机的成本。到目前为止,特斯拉所有的替换品都是在保修期内完成的。在互联网上审查特斯拉的发票时,他们从未披露过在保修期内的维修费用。通用公司的雪佛兰电池组的报价是:15734.29美元。
Part of the high costs of batteries are thematerials that go into them which are on the rise. The linked New York Times article from last week quotes the following:
部分电池成本过高,是因为原材料的成本在上升。引用上周纽约时报的文章如下:
PRICE OF COBALT:钴的价格:
Up 115 percent this year 今年上涨了115%
PRICE OF LITHIUM:锂的价格
Up 45 percent 今年上涨了45%
PRICE OF GRAPHITE:石墨的价格
Up 30 percent 今年上涨了30%
In an effort to achieve Elon Musk's questfor a "greener" planet one has to question the effectiveness of batteries. The idea was to get away from fossil fuels that emit CO2 into the atmosphere. So with batteries, we are still mining for minerals using heavy equipment that burns diesel. The raw ores must still be further refined and shipped to battery cell manufacturers. More fuel burned. More CO2 released. Thesame CO2 that traps heat from the sun contributing to global warming.
为了实现伊隆.马斯克对"绿色"星球的要求,我们不得不质疑一下电池的有效性。这个想法是想了解决排向大气中的CO2的化石燃料的问题。所以,在我们使用电池的时候,仍然使用燃烧柴油的重型设备开采矿石。原始的矿石需要进一步的精练,才能送到电池厂商那里。这就需要更多的燃料。导致释放更多的CO2.CO2吸收了太阳的热量,进而导致全球变暖。
The most serious issue facing batteries for global automakers like Tesla is the Chinese advantage.
对于特斯拉这样的全球汽车生产商来说,其面临的最大的问题就是中国的优势。
But manufacturers are also dealing with a geopolitical dimension. Three-quarters of the world's reserves of lithium, a crucial ingredient in the most common kind of electriccar battery, are in China and Chile, according to the United States Geological Survey. As demand surges, China could deploy its natural resources as adiplomatic cudgel the same way that Saudi Arabia uses oil." (NY Times Dec 18, 2017)
但生产商也会面临地缘政治问题。据美国地质调查局的数据,全球3/4的锂储量都在中国和智利,这是电动汽车电池的关键成份。随着电池的需求的增加,中国就可以像阿拉伯使用石油一样,将其自然资源作为外交代表了"。(纽约时报,2017年12月18日版)
Is it any wonder theChinese government is fully behind the effort to globally replace gasoline anddiesel engines with battery electric vehicles (BEVs) or as China calls them NewEnergy Vehicles (NEVs)? While this would be great for China, it could prove tobe a future disaster for all other auto manufacturers.
有人会质疑中国政府完全支持在全球范围内取代汽油和柴油发动机的电动汽车,或是中国称之为新能源车吗?虽然,这对中国来说是利好的,但对于其它所有的汽车生产商来说,未来,将会是一场灾难。
Hydrogen fuel cells 氢能燃料电池
Producing unlimited amounts of hydrogen isas simple as two ingredients: Water and electricity. Hydrogen is extracted fromwater in a process called electrolysis. According to the U.S. Department ofEnergy "...a fuel cell coupled with an electric motor is two to three timesmore efficient than an internal combustion engine running on gasoline."
生产无限量的氢气,就像2种成份一样简单:水和电。从水中提取氢气的过程称之为电解水。据美国能源部的说法,"与电动机相连的燃料电池比使用汽油的内燃机效率高出了2到3倍。"
Hydrogen production to power fuel cells isabout where BEV charging was five years ago, but ramping up faster. Forcompanies like Tesla, this growing energy source could represent a blow to sales of those vehicles dependent on batteries to store and generate power torun electric motors. The bigger problem for Tesla is they are a one-act show.They only build BEVs. Every other major manufacturer gets the bulk of theirprofits from ICE sales. They are spending some of those profits in developing alternatives to ICE, but none have staked their entire existence on BEVs asTesla has done.
现在的加氢站的数量,约是5年前电动汽车充电桩的数量一样,但是增加的速度更快。像特斯拉这样的公司,这种不断增长的能源需求,可能会对依靠电池存储和发电来运行的车辆的销售造成打击。特斯拉面临的一个更大的问题是,他们是一线式的生产。他们只生产纯电动汽车,所有的其它的制造商都只能从内燃机引擎中获利。他们将利润中的一部分用于开发内燃机的替代品,但没有一家企业像特斯拉这样,将整个身家都放在了纯电动汽车生产上。
Where Tesla has had to foot the bill to getits Supercharger network built, the growing global hydrogen network is getting much broader support even from the oil and gas industry itself not wanting tobe left behind in the adoption of cleaner and more efficient energy generation.
特斯拉不得不为其超级电容的充电网络买单,即使是石油和天然气行业也不想在这个采用更清洁和更高效的能源生产方面被落下,加氢站的网络建设得到了更加广泛的支持。
One differentiating factor in the auto andtruck industry is in the refueling time. Car and truck fill-ups using hydrogengas are completed in about the same time it takes to fill a gasoline or dieseltank - under 10 minutes. That is a huge advantage to the 40-60 minutes even Superchargers need to recharge a Tesla lithium-ion battery pack. The most popular method, home charging, takes hours overnight.
汽车和卡车行业的一个差异化的因素是,加油时间。汽车和卡车加氢跟加汽油或是柴油的时间基本上是一样的-都在10分钟以内。这对特斯拉的锂电池组,用超级充电桩充电,需要40-60分钟来说,是一个巨大的优势。
New Advances in Hydrogen Generation制氢方面的新优势
Unlike coal, oil or natural gas, methaneand hydrogen can be generated in naturally occurring processes. Methane gas is a natural byproduct of landfills that's being captured and used to heat and power businesses. Hydrogen can be generated at will and on-site by separating theoxygen and hydrogen molecules in water using an electrolyzer.
不像煤炭,石油,又或是天然气,甲醇和氢气,可以通过天然的过程生产出来。甲烷气体是垃圾填埋厂的天然的副产品,经过捕捉以后可用于加热和供电业务。氢气可通过电解槽将水分解为氢气和氧气的过程而获得。
CNBC recently reportedon a Swiss hydroelectric plant being used to power a hydrogen generation plant.The hydrogen is compressed in a trailer tank and periodically moved to avehicle refueling station to be downloaded into station storage tanks. This isjust one example of renewable energy being used to generate hydrogen forvehicle fueling.
CNBC最近报道了一家瑞士的水力发电厂正在用于氢能发电。氢气被压缩进拖车槽里,并定期运送到加油站并传输到储氢罐中。这只是一个可再生能源被用来为车辆进行加氢的例子。
British firm ITM Power PLC (OTC:ITMPF)builds and sells hydrogen fueling stations designed to generate hydrogen gason-site for car, truck and bus fueling in the United Kingdom.
英国的公司ITM在英国境内进行设计,建造并销售现场可为汽车,卡车,和公交车加的氢。
Nikola Motors(private), builder of the proposed Nikola One and Two Class 8 semi trucks hascontracted with Oslo, Norway,-based Nel ASA to build its initial 16-stationhydrogen refueling network here in the U.S. The purchase order for the first two stations has already been issued. While mocked by many as ineffective Nikola may be on to something big.
Nikola公司,Nikola One和 Two Class8的半挂卡车的生产商,和挪威的位于Oslo的NELASA公司签订了合同,帮助其在美国建立最初始的16个加氢站。前2个加氢站的订单已经生成。尽管有很多人想看Nikola的笑话,心想他们可能做不出什么大事儿来。
Nikola's proposed network will allow themto sell hydrogen to car and truck users outside their own group of buyers fromthe outset, creating another new revenue stream. Profits will help offset thecosts of building their network. Nikola is looking to use electricity from renewable sources at each site being considered.
Nikola所提议的加氢站的网络,从一开始他们就可以向自己的买家群体以外的汽车和卡车用户出售氢气,从而有了另外一份收入。这些利润将有助于抵消其加氢站的成本。Nikola公司正在考虑在可使用可再生能源发电的地方建设加氢站。
The advantages of these types of refuelingstations is their ability to generate hydrogen during off-peak hours when electricity rates are lower and store the hydrogen in tanks to be dispensed atwill 24/7. linked to a solar or wind farm stations can generate hydrogen atzero cost, near zero CO2 generation. They also can reduce the size of expensivebattery packs in cars and semi trucks where the weight of batteries is acritical limitation in range or payload.
这些类型的加氢站的优势是他们可以在电费较低,非高峰时段所产的氢存储起来,以便可以随时利用。并且可以和太阳能或是风力发电站相连,产氢的成本是零,几乎不排放CO2.它们还可以减少汽车和半挂卡车上的电池组的尺寸,其中电池的重量是其行驶范围及有效载荷的关键的限制。
Tesla's proposed Semi is expected to carry800kWh or more of batteries to achieve just 500 miles of range. The Nikola Onelong-distance truck will have a range of 800-1,200 miles running on easily refuelable hydrogen tanks and a 320kWh battery pack that never needs to beplugged into a charger. The Nikola One also cuts about 2,000 lbs off the weightof a comparable fully fueled diesel semi. We are still waiting for Tesla toannounce the weight of their Semi.
特斯拉提议说其半挂卡车预计能携带800kWh或是更多容量的电池,行驶里程为500英里。Nikola One长途卡车行驶里程为800-1200英里,有着320kWh的电池组,不需要充电器。Nikola One的重量比柴油半卡还减少了约2000磅。我们还在等着特斯拉宣布它们的车身重量。
Royal Dutch Shell is supporting hydrogen. 壳牌石油支持氢能的发展
Royal Dutch Shell (NYSE:RDS.A) (NYSE:RDS.B)seems to not be taking any chances. They are playing the long game inalternative energy solutions. They have been working with BMW's Designworks ona new and futuristic station design. This short video shows the idea behindthis process of using otherwise lost excess power from renewables to create anduse hydrogen at what could become large savings.
芬兰皇家壳牌石油,看起来似乎是没有什么机会了。他们正在寻找长期的能源替代的解决方案。他们和宝马的Designworks合作,开发出了一款新颖的具有未来感的加氢站。在一个简短的视频中,展示了从可再生能源的剩余能量来生产和使用氢气,从而节省大量能源的想法。
The concept is even more appealing today aswe expand the amount of solar and wind power being generated. It is becomingcommon to see windmills shut down on windy days because the grid cannot acceptthe additional energy. I saw this routinely up in Montana. This means lost revenue to the company that owns the wind or solar farms. Finding new ways toabsorb/sell this extra power is a better solution for everyone. With the conversion to easily stored hydrogen, stations can take advantage of the lowes available electricity rates and store the created hydrogen in tanks for lateruse. Batteries cannot be filled beyond their much smaller capacities.
这种概念在今天显得更加有吸引力,因为我们不断扩展太阳能和风能的使用量。因为电网不能接受额外的电量,因此在风大的日子里,越来越多的风电站不得不关闭。我在加拿大的蒙大拿州经常会看到这个景象。这也就意味着说,风力发电厂或是太阳能电站公司会损失一部分收入。(国内也有弃风弃电的现象)寻找吸引利用/出售这种多余电量的新方法,对每个人来说,都是一种更好的解决方案。随着这些电可以转化为容易存储的氢,这些站点可以利用最低的电费,将生产的氢气存储起来,以后再进行使用。但电源的容量并不能超过其容量。
Shell with hydrogen stations in operationin California, England and Germany has taken quite a lead over other oilcompanies in finding ways to put available clean energy to use. Shell takesabout two months to construct a hydrogen station that can be located at existinggas stations using an area about the size of a tennis court.
壳牌氢能在加州,英格兰和德国,都已经有了自己的加氢站,壳牌也已经比其它的石油公司找到了在清洁能源利用方面更为领先的方法。壳牌氢能约需要2个月的时间来建设一座加氢站,现在可使用的加氢站面积约有一个网球场大小。
Eleven Japanese companies, includingautomotive giants Toyota, Nissan, and Honda, and oil companies JXTG Nippon Oiland Idemitsu Kosan, have signed an agreement to form a new company in thespring of 2018, aimed at the full-fledged development of hydrogen rechargingstations (HRS) for fuel cell vehicles (FCV)." (FuelsandLubes.com 12/21/17)
11家日本公司,包括巨头丰田,日产,本田在内的汽车生产商,和日本石油株式会社,已经签署了一个新的协议,在2018年春,成立一个新的公司,旨在全面的开发加氢站。
Even the U.S. Department of Energy is inthe act to promote hydrogen. On January 19, 2017, they awarded a $1 millionprize to the developers of a new, compact hydrogen fueling station called SimpleFuel. The energy department is convinced that hydrogen fuel cells andbattery electric vehicles are the best ways to get U.S. drivers off gasoline.The lacking ingredient they feel is a hydrogen fueling network.
甚至美国能源部也正在促进氢能的发展。2017年1月19日,他们向一个名为SimpleFuel的紧凑型加氢站颁发了100万美元的奖励。美国能源部相信,氢能燃料电池车和电动汽车是取代柴油汽车的最好的办法。他们感觉现在缺少的还是加氢站的网络建设。
At current counts from the U.S. Dept. ofEnergy, there are 39 public hydrogen stations in four states (CA, MA, CT andSC). 34 more are planned for 2018 in 6 states (NY and RI will be adding publicstations in 2018). There also are 24 private H2 stations across eight additional states with seven more stations planned for 2018. (TX, IL, MI, OH,MD DE, PA, and NJ). That is a total of 104 that are known to be planned by theend of 2018. That number will grow once Nikola announces the locations they arechoosing for their network rollout.
根据美国能源部的数据,在美国四个州有39座公共加氢站,2018年在另外6个州计划建设34座加氢站。在其它的8个州还将建设24座私人加氢站,计划在2018年增加7座。到2018年年底,共计建设加氢站104座。一旦Nikola宣布了他们选择的加氢站的地址,这个数字还将会增长。
Clean Energy Fuels (CLNE) already hasteamed up with Pilot/Flying J travel centers to install CNG/LNG refueling pumps on existing sites. The opportunity and space exist at these same locations toinstall hydrogen generating stations for use by both cars and trucks.
清洁能源燃料已经和Pilot/Flying J的旅行中心合作,在现有的地方安装CNG/LNG管道。现在这些地方有机会,有空间来安装给氢能燃料电池汽车和卡车加氢的加氢站了。
Tesla will be at a disadvantage for tworeasons. 1) They built a Supercharger network that could only support cars. Sonow they need another entire network for trucks. 2) Because of the time ittakes to recharge batteries. In the time it will take a Tesla"Megacharger" stall to power up one truck for 400 miles, a hydrogenstall could have fueled 2-3 trucks for an average of 1,000 miles, and can beoperated at peak efficiency 24 hours a day. Tesla will need late-night/earlymorning recharging to minimize electricity costs they have guaranteed to their customers at just $.07/kWh.
特其拉不占优势的原因有2个
他们打造的Supercharger网络只能供电动汽车使用。他们还需要为电动的卡打造另外一套充电的网络。




因为特斯拉的电池充电需要时间。在特斯拉给一辆卡车充满电,只能行驶400英里的时候,一套加氢的装置可以为2到3辆车加满氢,且平均行驶里程有1000英里,还可以一天24小时的以最高的效率运行。特斯拉的客户需要在深夜/一大早给汽车充电,以便能用上最便宜的电费,保证客户的电费在0.07美元/千瓦时。
Outside the U.S. 美国以外的国家氢能发展的状况
Sofar we have just been talking about the activity in the U.S. Let's shift now toChina where on Christmas Eve it was announced that an investment of $1.75billion USD (11.5 billion yuan) will be spent to build the country's firs tresearch and production business park for hydrogen fuel cells, according to authorities of the Wuhan Economic and Technological Development Zone, in Hubei Province. Their focus, for now, is on fuel cells for generators and coaches(buses).
我们仅仅只讲了美国本土的一些活动。现在让我们把目光投向中国。就在圣诞节前夕,雄韬电源公司投资115亿元,将在武汉开发区建设全国首个氢燃料电池产业园,主要从事氢燃料发动机的研发生产,建成后将形成每年350亿元的产值,助力武汉打造氢燃料之城。
Europe is further ahead in the expansion ofhydrogen refueling stations than we are here in the U.S. as you can see lookingat this map, and for good reason. Gasoline is much more expensive there. Dieselautos are more plentiful than gas cars due to fuel costs and mileage ratings.In the first half of this year gasoline-powered car sales exceeded diesel salesin Europe for the first time since 2009 because of the revelations of true diesel emissions. The backlash also has fueled sales of "alternative"vehicles which rose by 35% in the first half of 2017.
欧洲人在加氢站的建设方面比美国要更为领先,下图即可看明白。参考(https://www.netinform.net/H2/H2Stations/H2Stations.aspx)在欧洲,汽油要贵的多。因为燃料成本和行驶里程的评级,柴油汽车的数量比燃气汽车更加丰富。今年上半年,汽油汽车的销量自2009年以来首次超过了柴油汽车,原因是对柴油汽车排放的禁止。这种反弹也推动了2017年上半年新能源汽车的销量上涨了35%。
Americans are in no rush to look for alternative fuels because we are not feeling the pain of $5-6/gallon gas. Dueto our wide open spaces, smog is hardly an issue anymore because of thelowering of emissions we have achieved to date.
美国人并不急于寻找可替代燃料,因为我们感觉不到每加仑气体5-6美元的切肤之痛。因为美国幅员辽阔,雾霾并不是一个大问题,因为到现在为止,我们的排放量已经降低了不少了。
Toyota, Honda and others are quietlygearing up on hydrogen vehicles.
丰田,本田和其它汽车生产商正悄悄的启动氢能燃料电池车
Toyota (TM) builds and sells the Mirai herein the U.S., Japan, Europe and the United Arab Emirates. U.S. Sales in 2017 areup 50% over 2016 but remain largely limited to California due to a lack of hydrogen infrastructure. That picture should be changing in 2018.
丰田已经在美国,日本,欧洲,阿联酋开始组装并销售其Mirai氢能燃料电池车。在美国2017年的销售量,跟2016年相比增加了50%,因为加氢站基础设施的缺少,这些车基本上都在加州销售的。这种情况在2018年的时候会有所改变。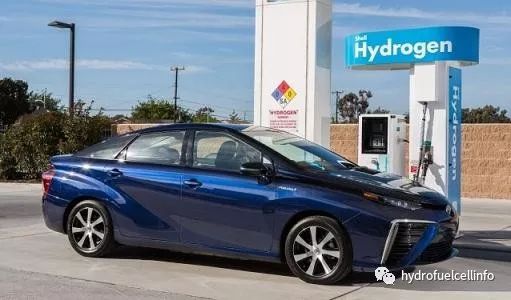 (source: greencarreports.com)
Not to be left out, Honda (HMC) is in thegame as well with three versions of its Clarity model. A battery electric BEV,a PHEV plug-in hybrid with a gas engine, and the FCEV hydrogen version.
为了不被落下,本田也加入到这场竞争中来,推出了三款Clarity氢能燃料电池模型车。电动汽车,混动汽车和氢能燃料电池汽车。 其它车型可参考:一次性看完12款正在准备阶段中的氢能燃料电池车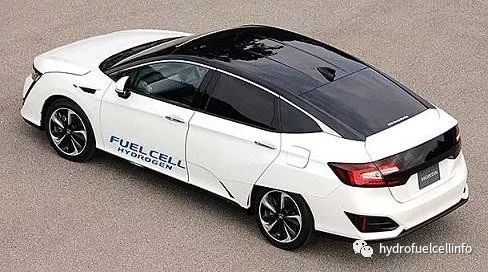 (source:hydrogencarsnow.com)
Both the Mirai and Clarity FCEVs qualifyfor the much higher California CVRP rebate of $5,000 vs. $2,500 for BEVs or$1,500 for PHEVs.
Mirai和Clarity的氢能燃料电池汽车在加州购买时可获得更高的返利,5000美元,电动汽车的话是2500美元,混动汽车是1500美元。
Toyota's Mirai is $349per month for 36 months, $2,499 due at drive off and includes $15,000 of freehydrogen as well. Incredibly, if you purchase a Mirai (which qualifies you forthe $7,500 federal tax credit) Toyota will throw in another $7,500 in"purchase support." You still get the $15,000 of free fuel and the$5,000 California rebate. So either one is a budget-minded commuter's version of heaven.
丰田Mirai的氢能燃料电池汽车,每月租金349美元,可持续36个月,2499美元即可开走,还包括15000美元的免费用氢。不可置信啊,如果是购买了一台Mirai的话,(联邦政府还会有7500美元的税收减免)丰田还会有额外的7500美元的"购买支持"。所以,你将免费获得15000美元的用氢,和5000美元的加州政府给的返利。所以,任何一个对精打细算的通勤者们来说都是天大的好事儿!
There's an even more compelling case forhydrogen. Steven Beatty, managing director of Toyota Canada, said in aninterview last year:
这还有个更有说服力的例子。Steven Beatty,加拿大丰田的总监,在一次采访中说道:
It offers a driving experience that's verymuch like the car that you have in your driveway today — the quick fill-ups,the long range, the overall performance of the vehicle is very similar," hesaid, adding that these characteristics make hydrogen more reliable thanelectric for long-range trips.
他说,氢能燃料电池汽车的驾驶体验跟你现在正在开的车,几乎是一样的:加氢快,行驶里程长,车辆的整体表现相似。他补充说,就长途旅行来说,氢能燃料电池汽车的这些数据会比电动汽车更加可靠。
We're standing right on the threshold ofwhat I think is a revolution in the auto industry." When you compare these cars to the newTesla Model 3 there's going to be some resistance from Tesla buyers. The Model3 has no advertised lease programs at this time. With the current models costing $50,000 and up, the car is hitting buyers wallets for around $800-plusper month on a 60-month loan. The Model 3 buyer does not get free access to theSupercharger network as the Model S and Model X currently do. (That privilege will expire for new owners of those cars at the end of January.)
"我们正站在汽车行业的革命性的门槛上"。当你把这些汽车跟新的特斯拉Model 3相比较的时候,特斯拉的买家们可能就会遇到些阻力了。特斯拉Model3 目前还没有做广告的计划。目前该车型的售价是5万美元,如果贷款60个月的话,每个月要还800多美元。但Model3的买家,不能像Model S 或是Model X那样免费接入特斯拉的超级充电桩的网络。(2018年1月底这些新车主的特权即将到期。)
Conclusion结束语
The hydrogen infrastructure here in theU.S. today is about where the Tesla Supercharger network was just a few yearsago. For now, as it was back then, the expansion is focused where the greates tincentives are being offered. As the system expands sales will expand as well.But this time Toyota or Honda is not building the system on their own. State agencies are ponying up millions to assist in the effort. Royal Dutch Shellalready has operational stations in California. With a state incentive twice that of BEVs, FCEVs are becoming more compelling. No one should lose sight ofthe fact Tesla is likely to lose the full federal tax incentive in mid to late2018, making sales tougher not only in their home market of California butacross the country.
如今,在美国,加氢站基础设施的情况,就跟几年前特斯拉的超级电容的充电桩情况一样。就目前来说,基础设施扩张的重点是激励措施,就像前几年那样。随着系统的扩大,销量也会随之增加。但这次,丰田和本田并没有自己打造他们的系统。州立的机构已经提供了数百万资金的支持。壳牌氢能在加州已经有了可运营的加氢站。由于氢能燃料电池汽车的激励措施是电动汽车的2倍,而变得越来越有吸引力了。不要忽视了到2018年中后期,特斯拉可能会全面失去联邦税收激励措施的事实,这不仅是在加州市场,在全美市场的销售也会愈加艰难。
Even though the Tesla Semi is expected tohit the highways before Nikola, they have a serious up hill battle in increasingreservation counts. With the largest order to date from UPS for just 125 trucks(2% of their fleet), Tesla's lack of true test data could be hampering reservations. It may be why we have not heard about a FedEx order for Tesla trucks yet. The trucks that are being reserved are for companies to conduct their own tests in a real-world environment and that's forcing reservations for small numbers of trucks in relation to fleet sizes.
尽管特斯拉半卡会比Nikola的半卡提前上路行驶,但在增加预订数量订单方面,则会面临一场及其严峻的竞争。目前,UPS只有125辆卡车,订单最多,特斯拉因没有真实的测试数据可能会影响其预订单数量。这也是我们为什么没有听到联邦快递FedEx说起过Tesla的卡车订单。这些保留的卡车,是供公司在现实的环境中自己进行测试,迫使保留了少量的卡车。
With Toyota's hydrogen semi truck alreadyhauling freight at the ports of Long Beach and Los Angeles, Tesla's numbers aregoing to have to be really good to justify new truck purchases for short hauls.Toyota's truck which uses a diesel semi truck conversion could be duplicated cheaper and faster than waiting to buy new Tesla trucks. Other engine and truck builders are reported to be working on new hydrogen-powered systems and designs(Kenworth is one).
丰田的半挂卡车已经在加州长滩和洛杉矶的港口进行货物运输了,特斯拉公布的数据非常的好,以来证明短途运输购买这种新的卡车是非常合适的。丰田的半卡,使用柴油卡车转换的,可以复制,且更为便宜。不用等待特斯拉的新车。据报道,还有另外一家卡车生产商也在研发新的氢能燃料电池系统的卡车。(Kenworth就是其中的一个)可参考:肯沃斯 氢能燃料电池卡车
There should be no doubt in anyone's mind that the internal combustion engine (ICE) is on its way out, and the sooner the better. Electrification is coming fast. Electric motors are cheaper, cleaner,easier to maintain, and should last longer than comparable gas engines. Lower costs of operation are obvious with no required oil changes or tune-ups. Now itis just a matter of determining the best method to power these new motors and Idoubt it will be "winner takes all." Batteries will have their place but are still very expensive, have an undetermined useful life at this point,and will require proper disposal. Hydrogen fuel cell electric systems emit oxygen and water vapor both of which are harmless to the environment, and their battery packs are much smaller.
没有人会怀疑,内燃机正渐行渐远,越快越好。电气化正在加速。电动车更加的便宜,清洁,容易保养,跟内燃机相比,使用的寿命要更长。降低成本的操作是显而易见的,不需换油或是对发动机进行调整。现在只是决定找出一种最合适的驱动这些发动机的办法,我怀疑是赢家通吃。电池可能还会有自己的一席之地,但会非常贵,在这点上还有个不太确定的是,使用寿命,还需要对电池进行正确的处理。氢能燃料电池系统,排放物只有无害的氧气和水蒸汽,且它们的电池组相对也小的多。
Tesla needs to step up their game. New promises, like the pickup truck announcement, are no longer moving the needleas we saw with a 2.4% drop in share price on Tuesday. I honestly do not seeanyting in Tesla's near future to warrant holding shares. There may be a slight bump with deliveries next week but it will be short lived once the results of Q4 are published in February. I have to rate TSLA a sell at this point. I donot recommend a short sale of the stock. It is just too volatile. Wait until after the Q4 results. If CoverDrive is correct as reported Tuesday by Montana Skeptic (here) and Tesla pushes the $2 billion mark in losses in 2017, it will be a long ride down from there.
特斯拉需要对游戏进行升级。就像周二,特斯拉皮卡宣布的新的承诺,并没有造成2.4%的股价的下跌。我真的看不到持有特斯拉的票的未来。但在2018年2月份,特斯拉4季度财报发布后,下周特斯拉交货时股价可能会有小幅度的波动,但为期不长。就这点上来说,我想要点评一下特斯拉。不建议卖空,因为动荡太厉害。要等特斯拉第4季度的财报。如果CoverDriver是正确的话,在周二由Montana Skeptic报道的,特斯拉在2017年损失了20亿美元,如果要赶上的话还有很长的路要走。
Disclosure: I am/we are short TSLA VIAOPTIONS.
I wrote this article myself, and itexpresses my own opinions. I am not receiving compensation for it (other thanfrom Seeking Alpha). I have no business relationship with any company whosestock is mentioned in this article.
我自己写的这文章,只代表我个人观点。我没有收到任何的费用(除了SeekingAlpha),我与本文中提到的任何公司均没有业务往来。
Additional disclosure: For this article, Ileft out a discussion of the Hyundai Tucson FCEV because it is a compact SUVnot a sedan and priced $100 higher per month on a lease. However, it doesinclude free hydrogen like the others.
在这文章中,我没有讨论到现代的Tucson 氢能燃料电池车,因为它是一款紧凑型SUV,而不是小汽车,它的每个月的租金有100美元。然而,这其中也像其它款的氢能燃料电池汽车一样,包括免费使用氢气。